1 Police Plaza is the main headquarters of the New York City Police Department in New York City.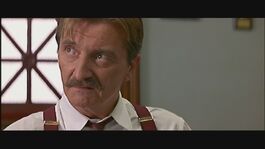 Inspector Walter Cobb is at the headquarters in his office when he receives a phone call from a man calling himself 'Simon', claiming responsibility for a bomb he blew up at the Bonwit-Teller convenience store. Simon tells Cobb to call John McClane and bring him to Harlem wearing a racist sign. Following that mishap, McClane is brought into Cobb's office along with Zeus Carver, who McClane met while in Harlem. Then, bomb expert Charlie Weiss comes in and demonstrates how the bomb was used during the explosion at Bonwit–Teller. He throws the liquid in the form of a paper clip at a chair and it explodes, startling Detective Connie Kowalski. Then the police attempt to trace Simon's whereabouts but fail. Cobb even tries convincing Simon to stop using McClane in exchange for a ransom, but to no avail. Cobb gives McClane his badge and gun, then tells him to go after Zeus, who leaves the building. But before he can, McClane convinces Zeus to come with him or more people will be killed.
Ad blocker interference detected!
Wikia is a free-to-use site that makes money from advertising. We have a modified experience for viewers using ad blockers

Wikia is not accessible if you've made further modifications. Remove the custom ad blocker rule(s) and the page will load as expected.