Argyle's Limousine' is a stretched, 1986 Lincoln Town Car shown in a few scenes in Die Hard. It is driven by Argyle who takes John McClane to see his wife and children for Christmas.
Description
Edit
A variant of the Lincoln Town Car, the first generation stretched limousine has a long body, four-wheel drive, two dual headlights, and three glass windows on both sides. It is also equipped with a CD player, CB radio, full bar, a telephone (as shown when Argyle speaks to McClane), VHS player, and a television. The Lincoln limo may come in either black or white color schemes.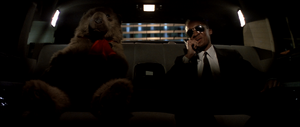 John McClane arrives in Los Angeles and is greeted by Argyle, who takes him to Nakatomi Plaza in his off black limousine. While driving to Nakatomi, Argyle asks some questions to McClane like if he's married, has kids, or even enjoys Christmas. Once they arrived, McClane steps out of the limo while Argyle goes to park it in the garage to pick him up later.
McClane calls Argyle (who is listening to loud music in the limo) to have a talk with him about taking his wife Holly with him before the phone lines 'suspiciously, lose connection. Argyle later finds out through the news the building is under control of terrorists. Nervous and wanting to escape, he drives the limo to the exit but sees the parking garage door has been sealed shut, then looks at a teddy bear and tells him to "shut up."
Later, when Argyle sees someone suspicious entering the Pacific Courier Truck, he gets up and watches closely. It is Theo preparing the getaway ambulance for Hans Gruber and his henchmen. But before he can get it out of the building, Argyle charges his limo into the van, then knocks out Theo. The limo is seen one last time as it picks up McClane and Holly, and peacefully drives them off to their house to celebrate Christmas.
Ad blocker interference detected!
Wikia is a free-to-use site that makes money from advertising. We have a modified experience for viewers using ad blockers

Wikia is not accessible if you've made further modifications. Remove the custom ad blocker rule(s) and the page will load as expected.