Personal information
Place of Birth

N/A

Die Hard
Appeared in
Charlie "Charles" Picerni (born December 19, 1935) on Die Hard and Die Hard 2: Die Harder.
Charlie has contributed to over 300 motion pictures with his skilled second-unit direction, stunt coordination and stunt performances. His sons Steve Picerni and Chuck Picerni Jr. have also had similar success and the two of them also contributed stunt work to the first two Die Hard films as well.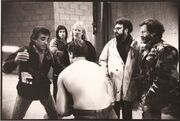 External Links
Edit
Ad blocker interference detected!
Wikia is a free-to-use site that makes money from advertising. We have a modified experience for viewers using ad blockers

Wikia is not accessible if you've made further modifications. Remove the custom ad blocker rule(s) and the page will load as expected.