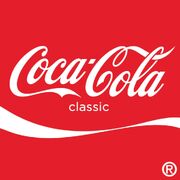 Coca-Cola Classic
is a popular, American carbonated soft drink and the flagship beverage of the Coca-Cola Company, headquartered in Atlanta, GA.
Description
Edit
Coca-Cola was originally conceived as a patent medicine by Confederate, Civil War Colonel John Pemberton in 1886, purportedly as a cure to morphine addiction, dyspepsia, impotence and other ailments. Following a litany of ownership disputes, the company was reincorporated in 1919 in Delaware, with the headquarters remaining in Atlanta. The original formula was held in SunTrust Bank's vault in Atlanta for 86 years, prior to being moved to the World of Coca-Cola museum in 2011.
Coca-Cola Co. attempted to update the formula and rebrand it for a newer generation in 1985 replacing their flagship product with "New Coke". The public backlash resulted in an almost immediate reversal of their policy, reintroducing the originally formulated product, but with high-fructose corn syrup instead of cane sugar, as "Coca-Cola Classic", with the newer formulated drink being called "Coca-Cola II".
Franco brings and pours Harry Ellis a can of Coca Cola Classic while he is attempting to negotiate with John McClane via radio, to return the detonators back to Gruber and his team of terrorists. Ellis is only able to drink a small portion of the Coke out of the glass before he is executed by Gruber when the negotiation fails.
Ad blocker interference detected!
Wikia is a free-to-use site that makes money from advertising. We have a modified experience for viewers using ad blockers

Wikia is not accessible if you've made further modifications. Remove the custom ad blocker rule(s) and the page will load as expected.