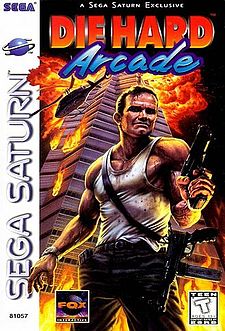 Die Hard Arcade is the licensed North American, European and Australian version of the Japanese video game Dynamite Deka, published by Fox Interactive and Sega. The game is a beat 'em up game licensed from the Die Hard movie. The arcade of it was released in 1996 while the game was released in Sega Saturn at April 8th, 1997.
The hero (named Bruno Delinger in the Japanese version) resembles John McClane, but the plot has nothing to do with the movie's. The game is a 1 or 2 player game, which players control a male and/or female character as they fight through the band of terrorists in 5 levels with fists, feet, weapons or household items as weapons in order to save the president's daughter.
Ad blocker interference detected!
Wikia is a free-to-use site that makes money from advertising. We have a modified experience for viewers using ad blockers

Wikia is not accessible if you've made further modifications. Remove the custom ad blocker rule(s) and the page will load as expected.