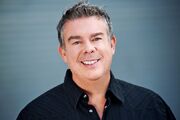 Elvis Duran is an American radio personality. He portrayed the New York Radio D.J. in Die Hard with a Vengeance who is also named "Duran".
In the film, while broadcasting live from the radio station, the D.J. character receives a call from Simon Gruber who is on a dump truck with Katya and Mathias Targo headed to his barge. Simon tells him to broadcast his report about a bomb being planted in one of the schools in New York City, and so he does. This makes several worried parents flee to rescue their children.
Ad blocker interference detected!
Wikia is a free-to-use site that makes money from advertising. We have a modified experience for viewers using ad blockers

Wikia is not accessible if you've made further modifications. Remove the custom ad blocker rule(s) and the page will load as expected.