Larry Bryggman
Personal information
Date of birth

December 21, 1938

Place of Birth

Concord, California, USA

Years Active

1975 - present

Die Hard
Character
Appeared in
Arvid Laurence "Larry" Bryggman (born December 21, 1938) is an American actor who portrayed NYPD Police Inspector Walter Cobb in Die Hard with a Vengeance.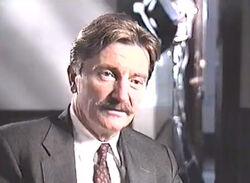 He also appeared on the Robert Redford-Brad Pitt spy film Spy Game and the Al Pacino film ... Justice for All. Bryggman also appeared as Dr. John Dixon from 1969 to 2004 in the soap opera As the World Turns.
External Links
Edit
Ad blocker interference detected!
Wikia is a free-to-use site that makes money from advertising. We have a modified experience for viewers using ad blockers

Wikia is not accessible if you've made further modifications. Remove the custom ad blocker rule(s) and the page will load as expected.