Die Hard voted favourite Christmas DVD — December 25, 2013
The 1988 action movie Die Hard has been voted as the favourite Christmas DVD to watch according to a poll conducted by Rakuten's Play.com, the online retailer. Read More...
---
"A Good Day to Die Hard" released on DVD and Blu-ray — June 4, 2013
The fifth film of the Die Hard film series, A Good Day to Die Hard was directed by John Moore (Max Payne, The Omen) and written by Skip Woods (X-Men Origins: Wolverine, The A-Team), and starring Bruce Willis as John McClane.
---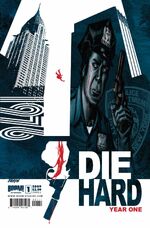 Die Hard: Year One is a comic book series, published by Boom! Studios and written by Howard Chaykin. There were 8 comic issues produced in the series between September 2009 and April 2010. Issues 1-4 (Volume One) and 5-8 (Volume 2) follow separate story arcs each occurring within a single day, similarly to the films. Perhaps unsurprisingly, McClane continually finds himself in the wrong place...
Which Movie as been your fave so far?
See more at the Poll Archive
<center>