Home
Talk

0
500pages on
this wiki
Die Hard voted favourite Christmas DVD — December 25, 2013
The 1988 action movie Die Hard has been voted as the favourite Christmas DVD to watch according to a poll conducted by Rakuten's Play.com, the online retailer. Read More...
---
"A Good Day to Die Hard" released on DVD and Blu-ray — June 4, 2013
The fifth film of the Die Hard film series, A Good Day to Die Hard was directed by John Moore (Max Payne, The Omen) and written by Skip Woods (X-Men Origins: Wolverine, The A-Team), and starring Bruce Willis as John McClane.
---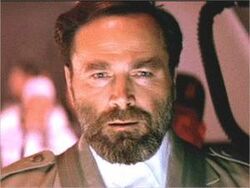 General Ramon Esperanza was a cruel South American dictator and drug lord from Val Verde. Esperanza was gained U.S. support by fighting communist insurgents in his country of Val Verde, a campaign fought with American money and military advisors. When the Congress stopped funding him, he entered the world of drug trade for funds. Esperanza committed many war crimes in his country and violated nearby countries' borders. After being ousted from power, he was arrested in his home country and..
Which Movie as been your fave so far?
See more at the Poll Archive
<center>