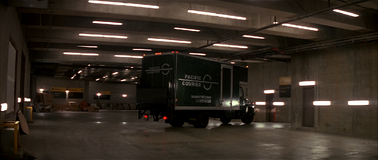 The
Nakatomi Plaza Parking Garage
is located underneath the skyscraper and is where the terrorists park their rented truck.
The underground parking garage is where the Pacific Courier truck pulls into and parks, where the terrorists then get out and take their various positions to make the heist work. The parking garage is monitored by video cameras, so it is likely that they would have been caught had Karl not killed the security guards prior to this. Argyle winds up getting locked into the parking garage and later knocks Theo out cold after he attempts to unload a getaway ambulance from the back of the truck by raming the ambulance with his limosine. Argyle busts out of the garage later.
Ad blocker interference detected!
Wikia is a free-to-use site that makes money from advertising. We have a modified experience for viewers using ad blockers

Wikia is not accessible if you've made further modifications. Remove the custom ad blocker rule(s) and the page will load as expected.