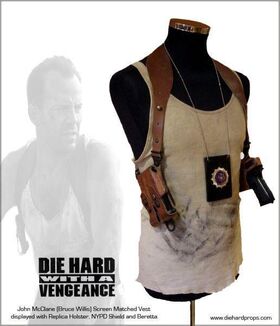 Throughout the Die Hard film series, John McClane is seen with a shoulder holster for his Beretta 92. It was best seen in Die Hard with a Vengeance. It usually carries the Beretta or the SIG-Sauer P220 with 2 spare magazines resulting in 3 total, one in the gun, 2 in the holster.
The holster is seen on the airplane McClane is on, which lands in Los Angeles. After some jet lag advice the holster is noticed by a fellow passenger. After reassuring the man that he is a cop here we see it is a Left hand (LHD) draw brown leather holster. The holster is seen briefly in the Nakatomi Plaza bathroom when McClane chats with Holly Gennero.
We see more of the holster now revealed under the right arm and showing the Beretta 92FS and under the other there is 2 magazines in snap fastened pouches. The rig is complete with brass snaps and silver hardware.
The holster seen here is different than the others. it still carries the Beretta (in LHD) and 2 spare magazines but this one has take down straps to tie down to the pants to prevent swaying. It also has black snaps and joints. With the 3 magazines available he has 45 rounds of ammunition before running dry.
Here after many years McClane still has his omnipresent shoulder rig. However his is slightly different with the joints between the holsters and the straps. This one doesn't have the black joint seen in above picture. Instead the leather continues bonded by a brass snap. In addition McClane now carries a SIG Sauer P220 in .45 ACP instead of the Beretta meaning he carries 2 8 round mags, plus the one in the gun, 24 rounds in total before running dry. Shoulder Rigs also make more appearances in the film by terrorists who use them. They are black instead of leather. When McClane takes a Beretta Px4 Storm from Russo he also takes his holster.
Ad blocker interference detected!
Wikia is a free-to-use site that makes money from advertising. We have a modified experience for viewers using ad blockers

Wikia is not accessible if you've made further modifications. Remove the custom ad blocker rule(s) and the page will load as expected.