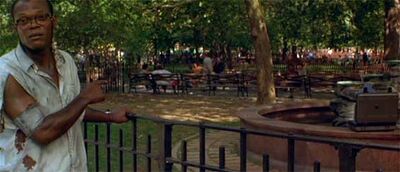 Tompkins Square Park
is a city park in
New York City
. It is a 10.5-acre (4.2 ha) public park in the Alphabet City section of the East Village neighborhood in the borough of Manhattan in New York City. It is square in shape, and is bounded on the north by East 10th Street, on the east by Avenue B, on the south by East 7th Street, and on the west by Avenue A. St. Marks Place abuts the park to the west.
It was one of the locations of one of riddles made by Simon Gruber in Die Hard with a Vengeance.
Simon
tells
Zeus Carver
and
John McClane
that they have to get to Tompkins Square Parks, which is two miles away. They run and make it in time where they answer a phone. The riddle is, "What has four legs and is always ready to travel?" Zeus knows this because his nephews are interested in riddles and recognizes the answer as an elephant. They spot a copper elephant statue on a nearby fountain and also notice two water jugs and a briefcase on the fountain. John recognizes this as the bomb and John wades through the water of the fountain to get it.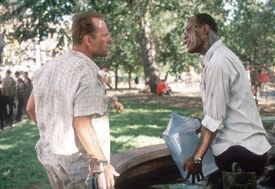 Zeus doesn't do this because kids pee in the fountain. Despite Zeus's warnings not to open the case, John does so anyway and a screen lights up and tells them that by opening the box, they have just armed the bomb. Zeus tells John that he shouldn't have opened the box when Simon calls again. Simon tells John that there is a scale on the bomb and that it will only be diffused if exactly four gallons of water are placed on the scale. Simon gives them a couple minutes to answer it and hangs up. John and Zeus bicker for most of this time and John luckily uses the three gallon jug to dump into the five gallon jug to make four gallons and puts it on the scale, disarming it with little more than five seconds to spare. Simon calls and congratulates them for surviving, and he tells them that there is an envelope under the fountain. The envelope contains two tickets to
Yankee Stadium
and Simon asks the two, "What is 21 out of 42?". John decides to figure out what the riddle means because it likely has something to do with the school bomb and Zeus takes the bomb to Ivan, a nearby police officer, before heading to Yankee Stadium.
External Links
Edit
Ad blocker interference detected!
Wikia is a free-to-use site that makes money from advertising. We have a modified experience for viewers using ad blockers

Wikia is not accessible if you've made further modifications. Remove the custom ad blocker rule(s) and the page will load as expected.